On-top scan design protects fragile plant specimen
ObjectScan 1600 is characterized as an on-top scan model. This unique mechanistic design guarantees the specimen morphological integration during image capture, eliminating irreversible risks from conventional up-side-down scan or vertically moving scanning station.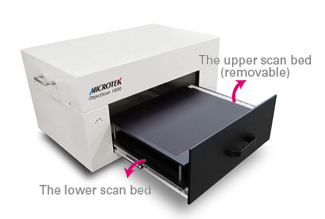 1,600-dpi color CCD provides high-resolution image
ObjectScan 1600 has a color linear CCD with resolution up to 1,600 pixels per inch, equaling that of 1Gigabyte. With the built-in 48-bit ADC (Analog to Digital Converter), the whole specimen as well as details of surface textures can be precisely captured and presented in high fidelity format.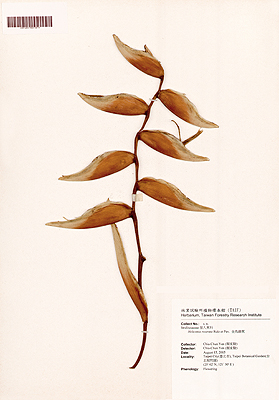 Up to +/- 6.5 mm DOF can get clear extended DOF images
The DOF (Depth of Field) of ObjectScan 1600 is up to +/- 6.5 mm at 300 dpi, which can overcome uneven or protruded parts of plant specimen. This is of especially help on specimen with corns and fruits, preserving and presenting the original characters for academic purpose.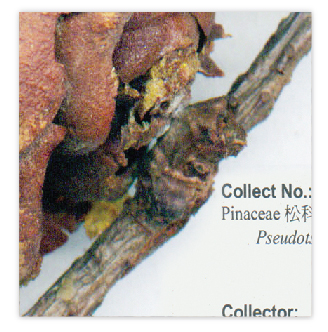 Automated metadata recognition ability
Specimen label information will be recognized and automatically saved titled by herbarium code and specimen serial number in XML format through ScanWizard-Botany. Various options, such as contrast, lightness, and sharpness, are also provided for curators on image adjustment.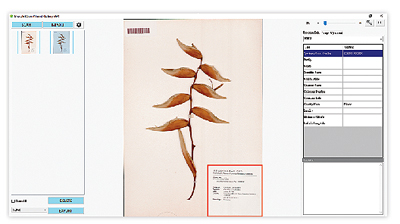 Image archive and privileged account management system
MiVapp-Botany is both a web-server system and specimen image authentication database, aiming for being an efficient and integrated multi-functional platform. After hierarchical login-based image quality and metadata profile validation from invited professionals, MiVapp-Botany can quickly update the system and immediately make verified specimen access by the public.
Spesifikasi Produk:
Item
Details
Product Name
ObjectScan 1600
Scanner Type
On-top Scan Flatbed Scanner
Image Sensor Type
Color Linear CCD
Resolution
1600 dpi
Light Source
LED
Scanning Area
304.8 mm x 424.18 mm (12" × 16.7")
Scanning Speed
12 sec @ 400 dpi, A3 Color (without calibration)
Bit Depth
48-bit (Input) / 24-bit (Output)
Connectivity
Hi-Speed USB 2.0
Supported File Types
TIFF, JPEG, BMP, PDF
OS Support
Windows 7 / 8
Dimensions (L x W x H)
750 x 470 x 376 mm / 29.5" x 18.5" x 14.8" (foot stands excluded)
Weight
47 kg (103 lbs)
Power Source
AC 100V-240V, 47-63 Hz, 1.5A max. (Input) DC 15V, 2.5A (Output)
Power Consumption
37.5 W
System Requirements PC
CD-ROM drive (for installing software)
Color display with 24-bit color output capability
Intel Core i5 Processor at 3.0 GHz PC or higher with Hi-speed USB (USB 2.0) port
4 GB RAM or more
Microsoft Windows 7 / 8
Software Included
ScanWizard Graph
Driver & Downloads:
Download Driver For Windows 7/8/10