Scan Directly without Folding
The larger A3-size scan bed supports a scanning area up to 304 x 426 mm. It lets you easily scan oversized originals, such as test papers, large pieces of art, and mechanical blueprints.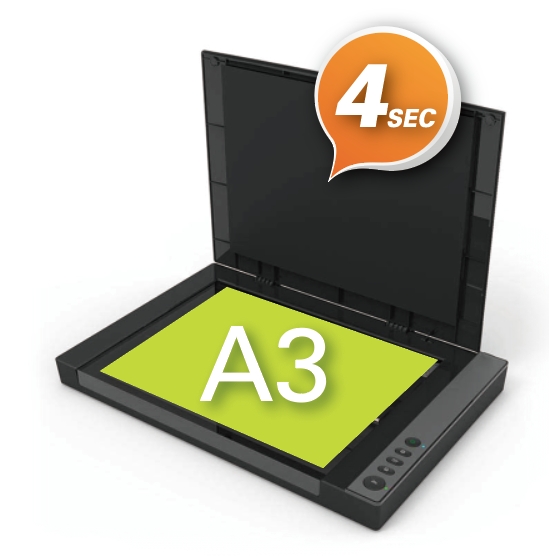 A3 Size Scan Just Needs 4 sec
At the setting of 200 dpi, the scanner only takes 4 seconds to finish a scan of an A3 original in color, grayscale or black-and-white. Its fast scanning speed doubles the work efficiency without any doubts.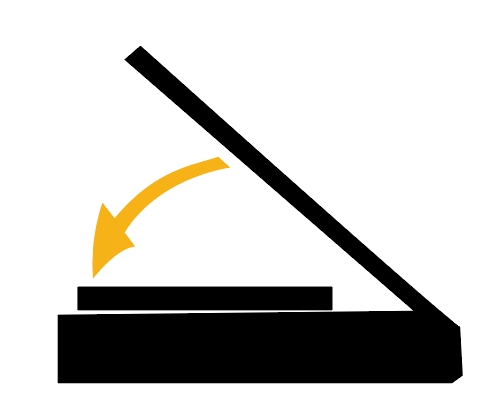 Removable Scanner Lid
The lid of the XT5750 HS is supported with two movable hinges, allowing users to remove the lid easily from the scanner when scanning thicker or larger originals.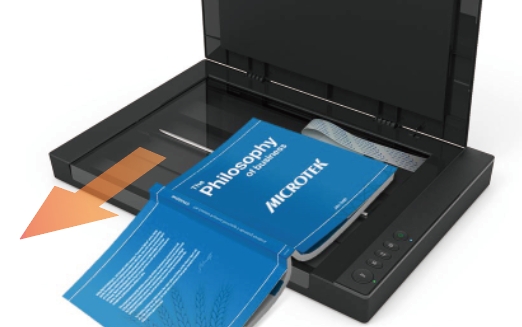 Frameless Platform
The design frameless platform ensures the scan bed to be absolutely flat; therefore, no marks will be left on the oversized document once the lid is closed. Also, it is easy for you to slide the scanned document out from the scan bed and makes a book easier to lie flat on the scan bed, decreasing happenings of blurry images closed to the inner margin of a book.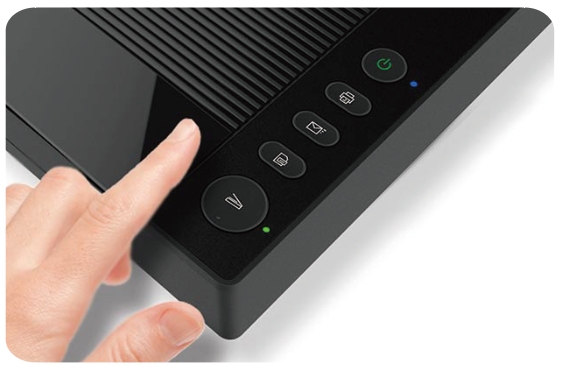 Smart Quick-Access Buttons
The XT5750 HS is equipped with four programmable quick-access buttons. By simply clicking a button, users can carry out a pre-defined scan job easily, such as scan to save, scan to print, scan to OCR or scan to E-mail. Even though you are a starter, there is no problem to catch up how to use it in just seconds.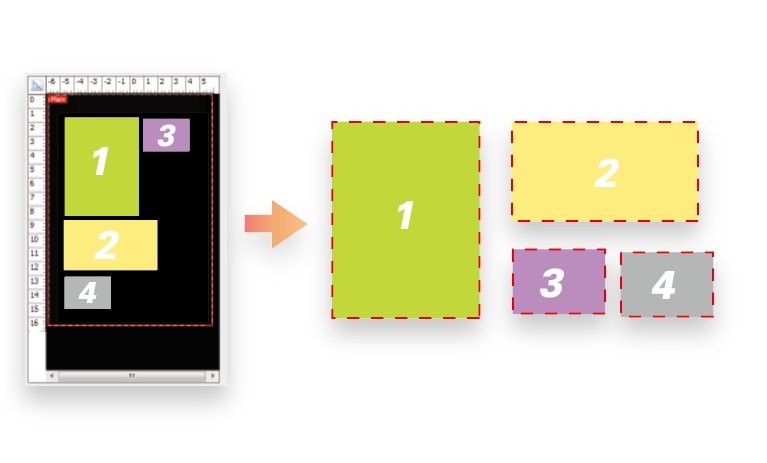 Scan and Auto-crop Multiple Images
With this feature, the scanner is able to crop and extract multiple images in just one scan automatically, saving extra time from document scanning and image cropping.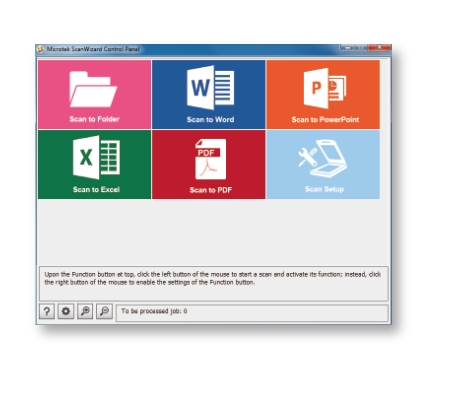 Microtek Application Center
Microtek ScanWizard Control Panel is an integrated but simple-to-use software, for it modularizes scan functions used commonly in daily offices. Just clicking a button, you can scan and save the image into a folder, or scan and directly OCR the image into Word, Excel, PDF or PPT application for further editing. With it, you can start to manage and organize daily jobs as simple as you want.
Spesifikasi Produk:
Item
Details
Product Name
XT5750 HS
Scanner Type
A3 flatbed scanner
Model Type
MRS-1200A3LEDP
Image Sensor Type
CIS
Resolution
1200 dpi x 1200 dpi
Light Source
LED
Scanning Mode
Color, grayscale, and black-and-white in a single scanning pass
Scanning Area
11.98" x 16.8" (304 mm x 426 mm)
Scanning Speed
4 sec @ 200 dpi, A3, Color/Grayscale/B&W
Color Depth
48-bit
Connectivity
Hi-Speed USB (USB 2.0)
Smart-Touch Buttons
4
OS Support
Windows 7/8/10
Dimensions (L x W x H)
22.2" x 15.5" x 2.4"
(565 公厘 x 394 公厘 x 61 公厘)
Weight
9.5 lbs. (4.3 kg)
Power Source
AC 100V to 240V, 50/60 Hz (Input)
DC 12V, 2A (Output)
Power Consumption
8.5W max.
System Requirements PC
Windows 7/8/10
Software Included
• Microtek® ScanWizardTM DI
• Microtek® DocWizard
• ABBYY FineReader® Sprint OCR
• Adobe® Acrobat® Reader
• Microtek® ScanWizardTM Control Panel
Accessories
• Scanner
• Power Adapter
• Hi-Speed USB (USB 2.0) Cable
• Software CDs/DVDs
• Start Here Guide
Driver & Downloads:
Download Driver XT5750 HS For Windows 7/8/10
Download ABBYY FineReader For Windows 7/8/10
Download User Manual XT5750 HS